Lake Facts
Oak
DNR ID/ Becker No
03-0392-00/392
Township(s)
Detroit
Lake Classification
Natural Environment
Ordinary High-Waterline (OHW)
Not recorded
Size
86 Acres
Maximum Depth
16'
Watershed Area
(Part of Brandy Watershed)
1986 Acres
Impairment Listings
none listed
Common Fish Species
unknown
Invasive Species
None listed
Public Access/Beaches
None
Land Use
(Part of Brandy Watershed)
24.0% Open Water
5.1% Developed
6.0% Wetlands
14.8% Cultivated Crops
30.2% Forest
20% Grassland
Map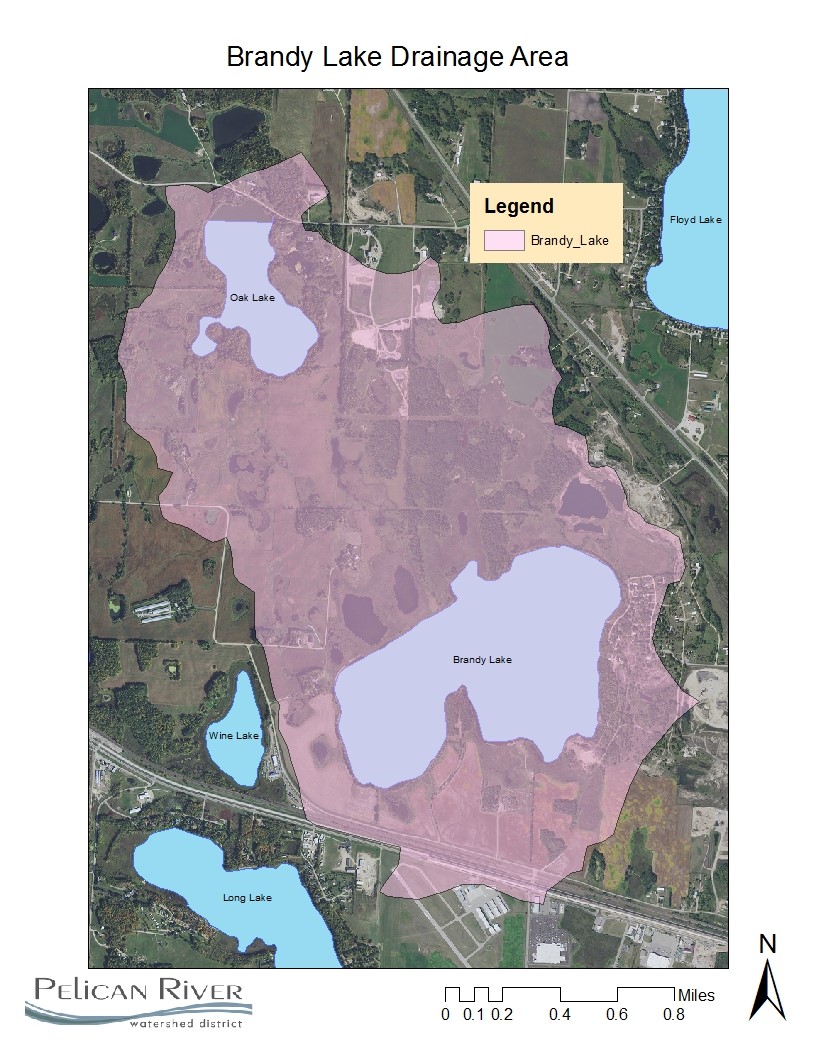 Lake Description & Overview
Oak Lake is bordered by two United States Fish and Wildlife properties, the Tessman Waterfowl Production Area (WPA) on the northwest and the Brandy Lake WPA to the south. Most of the west shoreline is natural while the east side has some development by private landowners.
Little is known about Oak lake other than the results of a vegetation survey performed by the MN DNR in 2018. The survey found the majority of the basin was deep (9 to 16 feet), with submersed vegetation found only at points less than 8 feet. The water level was about 2 feet higher than a habitat survey conducted on 8/11/1966, which was supported by a local landowner who indicated water levels had increased in last 50 years, and livestock were previously kept in an area currently flooded, possibly causing internal nutrient loading. There are two secluded bays on the basin where the submersed plants are abundant and the water markedly clearer. Cattails, bur reed, and bulrush are found along the shore in some areas but much of the shoreline is rocky. Many small fish and invertebrates were seen during the survey, especially in the shallow areas.
Oak lake is a borderline eutrophic/hypertrophic lake. The District sampled water quality on the lake for the first time in 2020, with plans to revisit in 2025.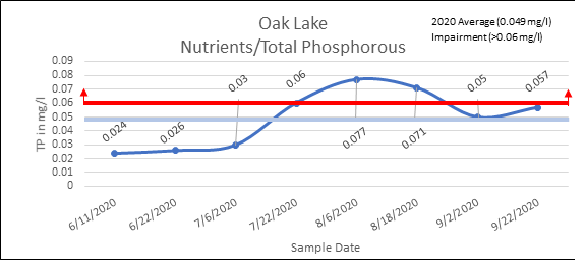 2020 Total Phosphorous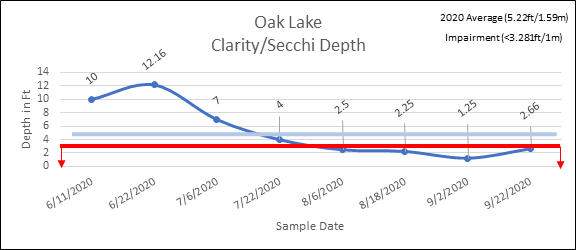 2020 Water Clarity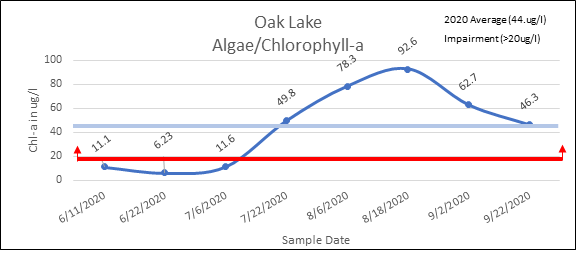 2020 Algae Growth
Water Quality
Oak
Goals
Short Term Goals – Year 2025
Maintain a 5-year mean summer phosphorus concentration at or below 40 µg/L ± 4%
Maintain mean summer Secchi depth no less than 5 ft
Long Range Goals – Year 2035
Maintain a 5-year mean summer phosphorus concentration at or below40 µg/L ± 4%
Maintain mean summer Secchi depth no less than 5 ft