Characteristics
Pelican River
Waterbody ID
09020103- 547 through 555 Pelican River from Detroit to Mill Pond (End of District)

Length
6.4 Miles
Elevation Change
10 ft
Headwaters
Detroit Lake
Outlet
Outlet of Mill Pond, (Edge of District)
Number of Sampling Sites
4 Sites:
S002-172 - Outlet of Detroit Lake
S009-364 - HWY 59
S002-174 - Outlet of Lake Sallie
S002-175 - Outlet of Lake Melissa

Impaired ​
(On the MPCA Impaired Waters List, Restoration necessary)
N/A
Enhance​
(Enhance condition to prevent future impairment. Nearly Impaired/degrading trend.)
N/A
Protect​
(maintain good condition and protect against future risks)
Total Phosphorous, Total Suspended Solids (Sediment)
Map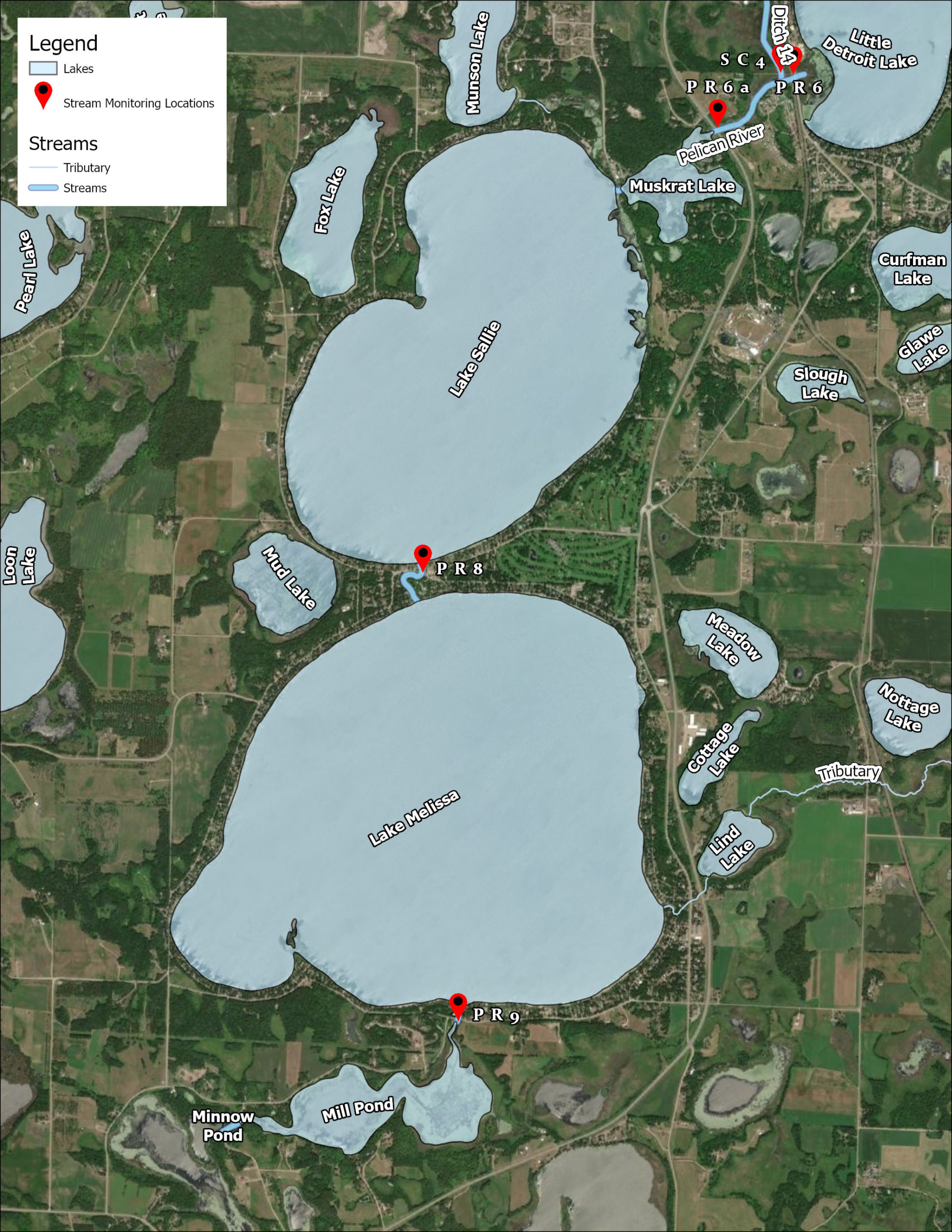 Description & Overview
The Pelican River between Detroit, Muskrat, Sallie, Melissa, and Mill Pond has been highly modified for navigational use. in the late 1800's the Pelican River Slack Water Navigation Company created a series of locks, dams, and dredged channels to allow for passage of steamboats from Detroit Lake to Pelican Lake downstream. These boats carried passengers and freight from the railroad depot on Detroit Lake to multiple resorts on the downstream lakes. Three Locks were built on this system, with two being in the District.
The first was at the northeast corner of Lake Sallie and is called Dunton Lock. (Apparently this may have also been called Richmond Lock.) It connects Lake Sallie to Muskrat Lake on the route to Detroit Lakes. The original lock was of wood with a guillotine gate at the lower end and miter gates at the upper end. The access road from US 59 is called Dunton Lock Road, but this road is now closed and a new park access is from the north. In the 1930s, the lock and parallel spillway were rebuilt by the WPA in concrete. Before 2001 at the Dunton Locks, there were two dams that carried the water of the Pelican River through nearly identical channels. The northern channel was the lock. The lock had vertical gates at each end, but these were gradually dismantled in the late 1940s. At the west end of this channel was a concrete bridge that blocked the use as a lock. Work was done at this site by the WPA in 1937. The drop was 5'11". In 2001, the lock was torn out and replaced by a rock-rapids to increase connectivity and fish passage between Lake Sallie and upstream waters.
The second lock, Kingsbury Lock, was built in 1907 – 1908. This lock was located between Mill Pond and adjacent Buck Lake, where the drop is about 12 feet. This dam was also rebuilt by the WPA. The dam remains in use and the lower end of the concrete lock survives. The Minnesota utilizes Mill Pond as a water source for its adjacent fish rearing pond.
The third lock would be Johnson Lock on Little Pelican Lake, beyond the bounds of the Pelican River Watershed District.
The District Monitors water quality at the outlet of lakes through this stretch. Water quality on these sites are very similar to the water quality in the adjacent lakes. The District does not sample TSS
Water Quality
Learn More
DNR Streams
Get information on streams and rivers in Minnesota here.
MPCA Surface Water Data
Find historical water quality data for streams throughout the Pelican River Watershed District and the State of Minnesota here
MPCA Watershed Information
Find information on the Otter Tail River Watershed here.
Studies & Surveys
For surveys and studies on the Pelican River, see the Resource Library.