Lake Facts
Melissa
DNR ID/ Becker No
MN 03-475-00/475

Township(s)
Lake View
Lake Classification
General Development
Ordinary High-Waterline (OHW)
1328.7(NGVD29)
Size
1846 Acres
Maximum Depth
37 ft.


Watershed Area
3509 Acres
Shoreline Length
7.3 miles
Impairment Listings
Mercury
Common Fish Species
Black Crappie, Bluegill, Green Sunfish, Largemouth Bass, Northern Pike, Walleye
Invasive Species
Flowering Rush, Curl-leaf Pondweed, Zebra Mussels
Public Access/Beaches
NE Shore off Co Rd 17 (MN DNR)
Land Use
55.8% Open Water
9.4% Developed
3.9% Wetlands
7.7% Cultivated Crops
14.8% Forest
8.4% Grassland
Map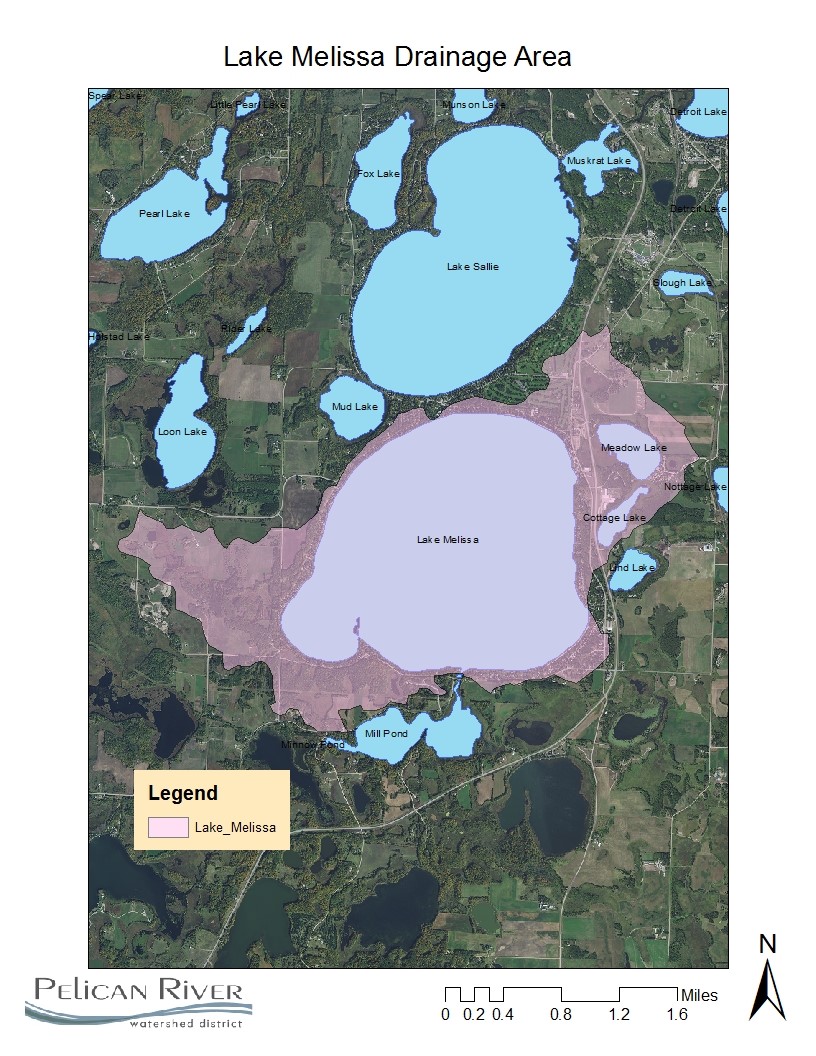 Lake Description & Overview
Lake Melissa is the second largest lake within the Pelican River Watershed District. Lake Melissa is classified as a mesotrophic lake with good water quality.  The Pelican River passes through the lake, entering on the north end from Lake Sallie, with an outlet on the south end flowing to Mill Pond.  Late summer algal blooms have been observed, typically caused by nutrient movement from the borderline eutrophic Lake Sallie through the Pelican River.
The invasive Zebra Mussel was first observed in Lake Melissa in 2014. Since then, there has been a significant increase in water clarity.  Prior to the infestation, mean summer clarity ranged from 8 to 12 feet (9.5 feet average). Subsequent years after the infestation, clarity increased to 12.5 (2015), 14.5 (2016), and 16.5 (2017).  There has also been a significant reduction in chlorophyll level, indicating a shift from free floating to benthic (bottom dwelling) algae, which is common with infested lakes.
Lake Melissa is also known to be infested with the invasive aquatic plant Flowering Rush and Curly-leaf Pondweed. The District actively surveys and chemically treats nuisance populations annually to manage the plant density and minimize recreational and environmental impacts.
The shoreline on Lake Melissa has been experiencing intense development in recent years to what was already a highly developed lake shore. There has also been a conversion from small, seasonal cottages, to larger, year-round homes.  Residential lots are relatively small, which also contributes to the dense development and shoreline modifications.
Shoreline survey results comparing waterfront equipment between 2008 and 2017 showed a drastic increase in quantity of waterfront equipment present, which is consistent with the increased development. The amount of motorized watercraft present more than doubled from 225 (2008) to 433 (2017), which, with 399 parcels on the lake, accounts for more than one watercraft per parcel. Personal watercraft (PWC, jetskis) were classified separately for the study, where 172 were observed in 2017, a 300% increase from 2008.  As to be expected with an increase on watercraft, there was also a significant increase in boat lifts, both covered and uncovered. Interestingly, the largest increase observed was with the non-motorized watercraft (including stand-up paddleboards, kayaks, paddle boats, etc.) which increased by 360% to a total of 276.
There are several water control structures in the Lake Melissa vicinity. The remnant of a lock and dam system is located approximately 100 feet upstream of Lake Melissa. This lock is no longer active and there are no water level manipulation abilities with the remnant structure, which does not inhibit fish passage. There is a bridge located at the outlet of lake Melissa that forms a slight hydraulic constriction. There are no other dam components, such as piers, stops, or concrete crest present. Approximately 300 feet downstream of the outlet is a large culvert below South Melissa Drive. There is a noticeable difference between the headwater and tailwater elevations at the culvert. Also, the velocity of flow in the channel from the lake to the culvert suggests that the headwater elevation at the culvert is slightly lower that the actual elevation of Lake Melissa.
Bucks Mill Dam is approximately 1.35 miles downstream of lake Melissa. Historically, a water wheel was utilized at the original dam for Buck's Mill, which is no longer present. Later, a second dam was constructed approximately 100 feet upstream of the original. The new dam is used to adjust water level in Mill Pond, and provide water to a downstream  MN DNR Fisheries rearing pond. Due to the difference in water lever, this dam has virtually no impact on Lake Melissa water levels.
Water Quality
Lake Melissa
Goals
Short Term Goals – Year 2025
Maintain a 5-year mean summer phosphorus concentration at or below 20 μg/L
Maintain mean summer Secchi depth no less than 10 ft
Long Range Goals – Year 2035
Maintain a 5-year mean summer phosphorus concentration at or below 20 μg/L
Maintain mean summer Secchi depth no less than 12 ft
Studies & Surveys
Future Surveys as part of 2020-2030 Monitoring Plan
Water Quality- 2020-2030 (all years)
Zooplankton Survey (Performed in collaboration with MN DNR) 2020-2030 (All years)
Vegetation Survey – 2021 & 2026
Shoreline Survey – 2022 & 2027
Past Surveys
Water Quality – 1995-2002, 2001, 2002, 2004-2010, 2012-2016, 2018-2020
Shoreline Survey – 1997, 2003, 2008, 2018
Vegetation Survey – 2008
For more studies and surveys, see the Sallie-Melissa Water Management Area.