Lake Facts
Sallie
DNR ID/ Becker No
MN 03-0359-00/359

Township(s)
Lake View
Lake Classification
General Development
Ordinary High-Waterline (OHW)
1330.3 (NGVD29)
Size
1272.9Acres
Maximum Depth
50 ft.


Watershed Area
3159 Acres
Impairment Listings
Mercury
Common Fish Species
Black crappie, Bluegill, Largemouth Bass, Green Sunfish, Muskellunge, Rock Bass, Northern Pike, Walleye
Invasive Species
Curly-leaf pondweed, Flowering rush, Zebra mussels
Public Access/Beaches
One
Land Use
46.2% Open Water
10.0% Developed
3.7% Wetlands
7.6% Cultivated Crops
18.0% Forest
14.4% Grassland
Map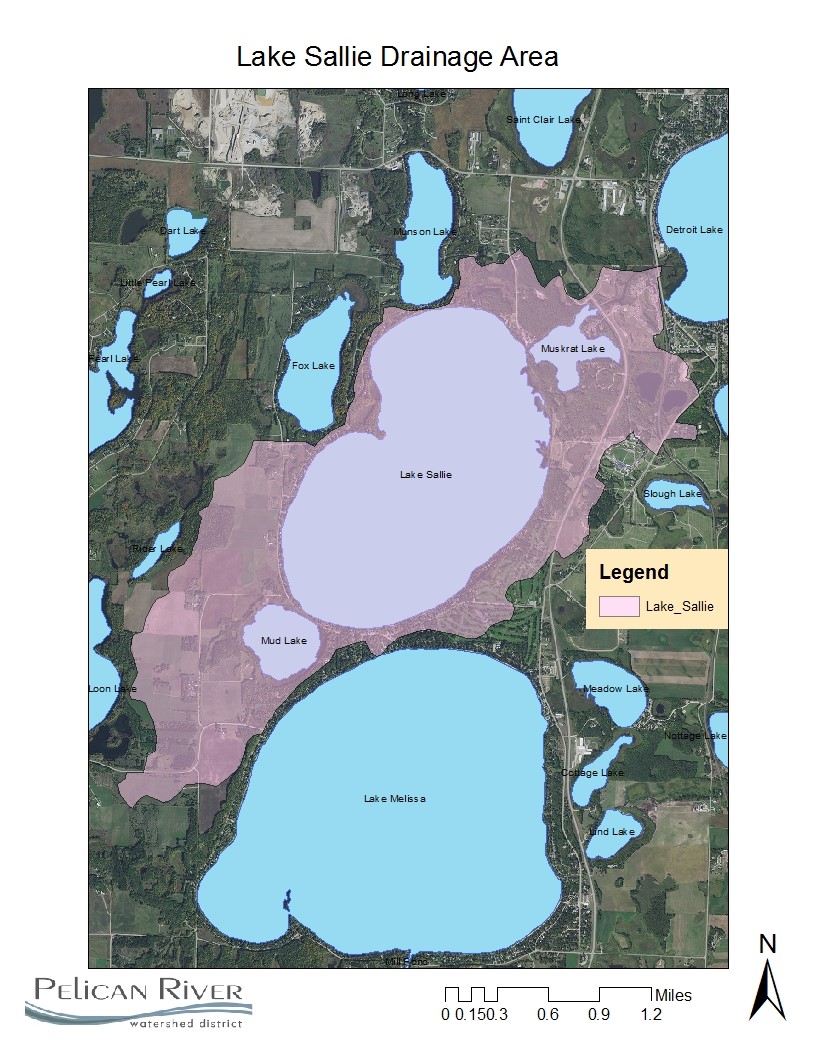 Lake Description & Overview
Lake Sallie is a polymictic lake, with 45% of its surface area considered littoral. Lake Sallie is classified as a borderline eutrophic lake vulnerable to nutrient impairment. The Pelican River passes through the lake, entering on the north end from Muskrat Lake, and outlets on the south end to Lake Melissa.
Historically, Lake Sallie has had poor water quality, partly due to the City of Detroit Lakes' use of upstream St. Clair Lake as a discharge point for wastewater. Prior to the construction of the original wastewater treatment facility in 1929, untreated wastewater was discharged into Lake St. Clair, which resulted in phosphorus levels in Lake Sallie to be approximately 54ppb, nearly 3 times that of nearby and similar lakes. In 1979, the facility was upgraded. Sallie responded with a decline in phosphorus levels ranging from 46 to 48ppb. The current facility, upgraded in 2002, further reduced  the load to Lake Sallie, resulting in the current mean summer levels between 35 and 37ppb.
While it has greatly improved since the 1970's, moderate to severe algal blooms are common, often continuous in July and August. These appear to be brought on in part by internal nutrient recycling, whereby nutrient rich water from the bottom layers are brought to the oxygen rich upper layers during lake mixing periods, often triggered by a storm event and high winds.
Much of the nutrient load comes from upstream sources, specifically from nutrient rich water from partially drained Lake St. Clair via Becker County Ditch 14. An alum treatment in Lake St. Clair conducted in 1998 reduced internal loading to the lake, and in effect, reduced nutrient loading to downstream Muskrat and Sallie Lakes. Stormwater Best Management Practices in the City of Detroit Lake has also aided in Lake Sallie improvements by reducing stormwater runoff loads to Little Detroit Lake, which outlets to Sallie.
In the fall of 2016, zebra mussels were located at the public access of the lake. By 2017, the infestation had spread lakewide. The District continues to monitor how the infestation impacts water quality. After only three years, the water clarity has increased to a record summer average of 13 ft. (compared to the previous 10 year average of 7 ft.).
A lock and dam system was installed during the depression era by a Civilian Conservation Corp (CCC) crew between Lake Sallie and Muskrat Lake. This structure was removed in 2001 and replaced with a constructed rock rapids outfall at the historic water outlet elevation and no longer allows for any water level manipulation. The Pelican River flows out to Lake Melissa through a culvert under Becker CSAH 22, approximately 200 feet downstream of Lake Sallie. The velocity of flow between the outlet of Sallie and the culvert suggests that the headwater of the culvert may be slightly lower than the true water level in the Lake. There is also a slight hydraulic restriction that appears to control lake level.
Water Quality
Lake Sallie
Goals
Short Term Goals – Year 2025
Maintain a 5-year mean summer phosphorus concentration at or below 30 μg/L
Maintain mean summer Secchi depth no less than 6 ft
Long Range Goals – Year 2035
Maintain a 5-year mean summer phosphorus concentration at or below 27 μg/L
Maintain mean summer Secchi depth no less than 8 ft
Studies & Surveys
Future Surveys as part of 2020-2030 Monitoring Plan
Water Quality- 2020-2030 (all years)
Zooplankton Survey (Performed in collaboration with MN DNR) 2020-2030 (All years)
Vegetation Survey – 2021 & 2026
Shoreline Survey – 2022 & 2027
Past Surveys
Water Quality – 1995-2002, 2004-2010, 2012, 2013, 2015, 2017-2020
Shoreline Survey – 1997, 2001, 2008, 2016, 2017
Vegetation Survey – 2008
For more studies and surveys, see the Sallie-Melissa Water Management Area.