Lake Facts
Little Floyd
DNR ID
MN 03-0386-00
Township(s)
Detroit
Lake Classification
General Development
Ordinary High-Waterline (OHW)
1354.8' (NGVD29)
Size
214.28 Acres
Maximum Depth
32 Ft


Watershed Area
341 Acres
Impairment Listings
Mercury
Common Fish Species
Black crappie, Bluegill, Green Sunfish, Largemouth Bass, Northern Pike, Walleye
Invasive Species
Zebra Mussels
Public Access/Beaches
SW Shore (MN DNR)
Land Use
62.4% Open Water
2.6% Developed
3.2% Wetlands
5.6% Cultivated Crops
7.5% Forest
18.7% Grassland
Map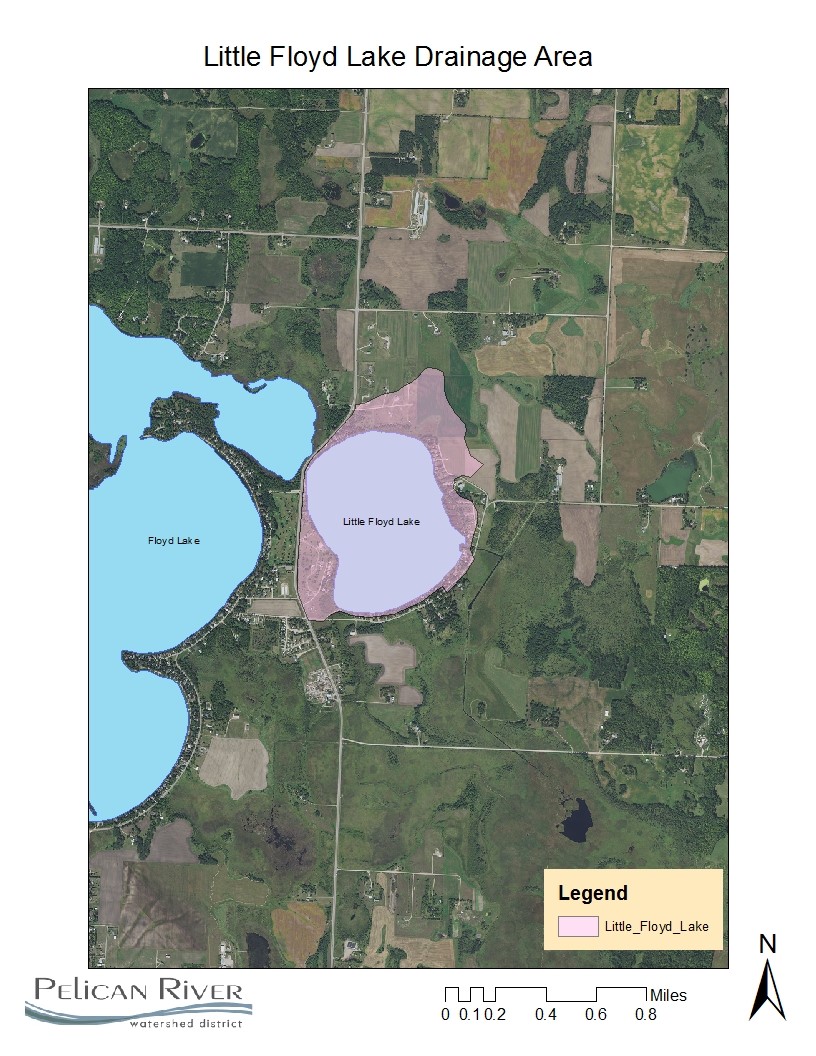 Lake Description & Overview
Little Floyd Lake contains a moderately developed shoreline, and receives most of its water from North Floyd, which outlets to Little Floyd through the Becker CSAH 21 road.  However,  there are some small natural drainage ways that lead to the lake.
The littoral area (< 15ft depth) of the lake accounts for 95 acres (45%) with an extensive emergent (cattail and hardstem bulrush) vegetation area located on the northeast side. There is an abundant native plant community. There is one MN DNR public access on Little Floyd located on the south end.
Little Floyd Lake is classified as a mesotrophic lake based on the Tropic State Index average for phosphorous, chlorophyll-a, and water clarity.  In-lake phosphorus concentrations can vary between 20ppb to 34ppb and are highly responsive to storm-events and heavy rainfall patterns. The 10-year (2008-2017) average is 25 ppb in-lake phosphorus concentration.
Little Floyd Lake has two outlets located on the south side. Historically, the lake had one outlet, located near the present day public access, however, a new outlet was constructed in 1919, when Becker County Drainage System 13 was built to channelize the Pelican River between Little Floyd and Big Detroit lake. In 1936, the Civilian Conservation Corps (CCC) built a concrete weir dam on Becker Drainage System 13. This structure controls Little Floyd, as well as North and Big Floyd water levels. The weir has a fixed crest which is set at a run out elevation of 1354.1 (NGVD 29) and is owned and operated by the MN DNR.
There are 86 parcels on Little Floyd, with high density areas which were platted and developed before statewide shoreland standards.
There are 55 parcels (64%) having greatly to moderately altered shorelines and 31 parcels (36%) having little to no shoreline alteration. There are 11 parcels along the south shore with seawalls.
Over the past 20 years, on the south end of the lake, two resorts have been converted to individual ownership.  In addition, many of the seasonal cottages are being rebuilt or converted to year-round homes.
In the mid-2000's on the west side, Little Floyd had increased second-tier development pressure when the Iron Man golf course (back 9 holes) was developed into residential housing.  During this same time, the north end was converted from pasture grassland into residential housing. There is a permanent special protection area owned by the Pelican River Watershed District which preserves the bluff and emergent aquatic vegetation area along the north side of Little Floyd.
Water Quality
Little Floyd Lake
Goals
Short Term Goals – Year 2025
Maintain a 5-year mean summer phosphorus concentration at or below 25 μg/L ± 4%
Maintain mean summer Secchi depth no less than 8 ft
Long Range Goals – Year 2035
Maintain a 5-year mean summer phosphorus concentration at or below 25 μg/L ± 4%
Maintain mean summer Secchi depth no less than 8 ft
Studies & Surveys
Future Surveys as part of 2020-2030 Monitoring Plan
Water Quality- 2020-2030 (all years)
Zooplankton Survey (Performed in collaboration with MN DNR) 2020-2030 (All years)
Vegetation Survey – 2020 & 2025
Shoreline Survey – 2021 & 2026
Past Surveys
Water Quality –1997-2020
Shoreline Survey – 1997, 2004, 2009, 2016
Vegetation Survey – 2011, 2018(RMB Labs), 2020
For more studies and surveys, see the Floyd-Campbell Water Management Area.