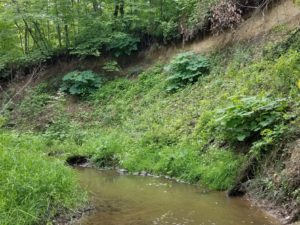 Campbell Creek continues to receive heavy sediment loads from streambank erosion. In 2020 the District continued its cooperative partnership with the MN DNR to study stream channel erosion on Campbell Creek from Campbell Lake to Floyd Lake.   District Staff joined MN DNR Staff for three days of survey in October. Staff noted downcutting of the channel bed, undercut banks, and extensive erosion to outer stream banks. The District has been selected for Federal Section 319 Funding for the Campbell Creek area to address the sediment impairment on Campbell Creek.
Campbell Creek is an intermittent, high gradient stream and is the major nutrient source to North Floyd Lake.  Sections of Campbell Creek were ditched and straightened in the early 1900s for agricultural benefit and included partially drawing down Campbell Lake and draining surrounding wetland areas.  Also known as Becker County Ditch 11-12, Campbell Creek drops almost 80 feet in 2 miles before reaching North Floyd.  Through the lower reach, Campbell Creek flows through highly erodible soils, and carries a heavy sediment load to North Floyd.
Extensive conservation work has been completed in the agricultural areas between Campbell Lake and North Floyd Lake including ditch buffers, sedimentation basins, and wetland restorations.  These practices have decreased loads of sediment and phosphorous to Campbell Creek, both other issues still need to be addressed (e.g., drain tile and stream bank erosion).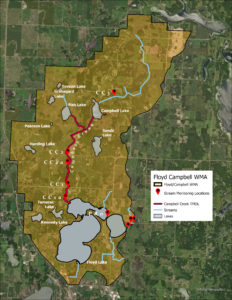 Campbell Creek experienced one of its worst years for water quality in 2020.  Loads at CC2 (Campbell Creek at 230th St.) reached 875 lbs/yr of TP and 65 tons/yr of TSS.  Loads of TP and TSS reached 3,400 lbs/yr and 532 tons/yr at station CC! (Campbell Creek at CSAH 149).  Total discharge to North Floyd Lake reached 1,041 million gallons, about four times greater than the average year.  Discharge from CC2w to CC1 increased by a factor of 2.5 (399 millions gallons to 1,041 million gallons).  The flashy flow regime observed at CC2 is magnified by the time it reaches CC1.  This is caused by multiple factors including:  wetland ditching, channel straightening, stream channel erosion, drain tile, and beaver removal.