Characteristics
Floyd-Campbell Planning Area​
Watershed area​
17,000 acres​
Land Use
5% Impervious​
50% Agriculture​
30% Forest​
10% Water​
5% Wetland​
Major Lakes
Big Floyd, North Floyd, Little Floyd​
Shallow Lakes
Campbell, Sands, Harding, Pearson, Tamarac, Kennedy, Tovson, Grimsgard​
Streams/Public Ditches​
Campbell Creek (Ditch 11/12)​
Impaired ​ On the MPCA Impaired Waters List, Restoration necessary
Campbell Creek/Ditch 12​
Enhance​ Enhance condition to prevent future impairment. Nearly Impaired/degrading trend.
Little Floyd, North Floyd
Protect​ Maintain good condition and protect against future risks.
Big Floyd​
More information needed for assessment​
Campbell, Sands, Harding, Pearson, Tamarac, Kennedy, Tovson, Grimsgard​
Map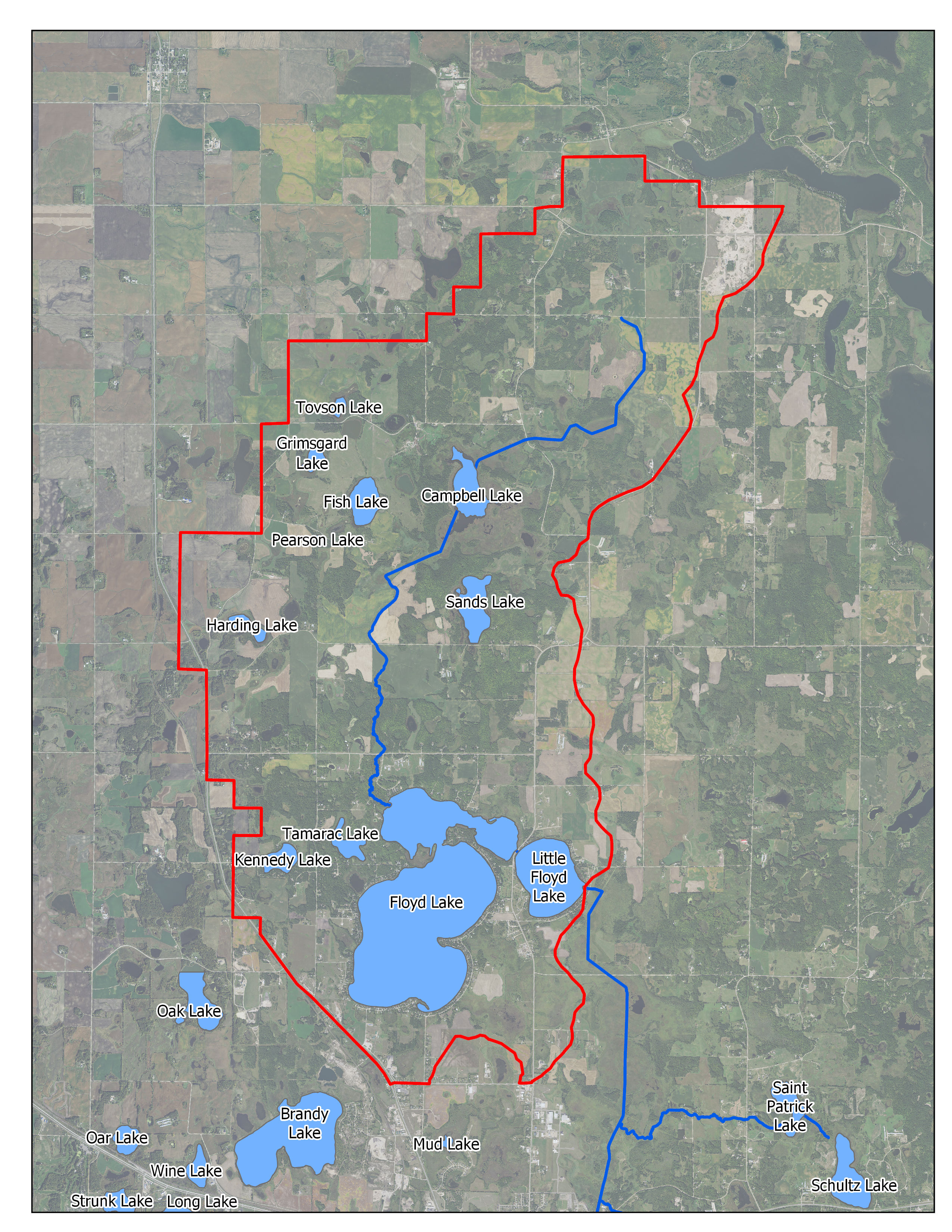 Description & Overview
The Floyd-Campbell LWQMA consists of 17,000 acres that drain towards the Floyd Lakes, which are among the most valuable recreational lakes in the area. The prominent water bodies within the Floyd-Campbell LWQMA include Floyd Lake (which has two basins locally known as North Floyd and Big Floyd Lakes), Little Floyd Lake, and Campbell Creek (which includes Ditch 11 and Ditch 12). However, the Floyd-Campbell LWQMA also includes several smaller lakes such as Campbell Lake, Fish Lake, Harding Lake, Sands Lake, Kennedy Lake, and Tamarac Lake, as well as several ditches (public and private) and natural waterways. That said, much of the development that does occur takes place along the shores of the Floyd Lakes.
The Floyd Lakes are heavily used for game-fishing, boating and other summer and winter recreational activities. Big Floyd has very good water quality compared to other District Lakes. Most of the time its water is clear, with moderate phosphorus and algae concentrations, and with good game fish populations and moderate vegetation growth. Occasionally the lake experiences algae blooms in September or October. In contrast, North Floyd suffers high phosphorus concentrations, severe algae blooms, and poor water clarity in the summer, as does Little Floyd because it is directly downstream of North Floyd. The Floyd Lakes also contain Zebra mussels, an aquatic invasive species. ​
The poor water quality in North Floyd is likely a result of several factors. First, North Floyd receives large phosphorus and sediment loads from Campbell Creek/Ditch 12. Before reaching North Floyd, Campbell Creek passes through highly erodible soil and loses almost 80 feet of elevation in 2 miles. As a result, streambank erosion occurs and causes Campbell Creek to carry large sediment loads to North Floyd Lake. Campbell Creek also drains several nutrient-rich wetlands and agricultural fields, which also contribute phosphorus to North Floyd Lake. In addition, internal loading occurs in North Floyd Lake, transferring dissolved phosphorus from the lake sediments to the water column during mid- to late summer. Finally, shoreline development and septic system use likely contribute further phosphorus loads to the Floyd Lakes. ​
Shallow lakes in the Floyd-Campbell LWQMA, such as Campbell Lake, Fish Lake, Harding Lake, Sands Lake, Kennedy Lake, and Tamarac Lake, are mostly shallow, subject to winterkill, and have little shoreline development. Little is known about the water quality and ecological integrity of most of these lakes. ​
Water Quality Goals
Waterbody/ies
Pollutant/Stressor
Focus
Goals
Actions
Pollutant/Stressor
Phosphorous
Focus
Tributary- Campbell Creek
Goals
Protection- Adaptatively Manage to protect, enhance, and restore water quality.
Actions
Limit external Nutrient Loading from Campbell Creek
Identify and protect sensitive aquatic Areas
Treat stormwater discharges through the implementation of District Rules
Conduct Shoreline Surveys
Manage Stormwater Runoff through implementation of District Rules
Lakeshore Protection through implementation of District Rules
Promote conversion of seawalls and retaining walls to naturalized shorelines
Assess internal loading in North Floyd
Pollutant/Stressor
Sediment (TSS, Impairment)
Focus
Streambank Erosion
Agricultural Runoff/Erosion
Goals
Restore stream water quality and ecosystem health
67% reduction in sediment load
Actions
Develop and implement a streambank stabilization plan
Identify and target critical agricultural erosion areas
Monitor existing agricultural BMP's to evaluate nutrient removal
Monitor multiple metrics to assess drivers of sediment loading
Campbell, Tamarac, Pearson, Kennedy, Fish, Harding, Grimsgard
Sands
Pollutant/Stressor
N/A- Insufficient Data
Focus
N/A- Insufficient Data
Goals
Sample water quality on small lakes within the planning region
Actions
Monitor small lakes as opportunity arises
Groundwater
Pollutant/Stressor
N/A-Insufficient Data
Goals
Promote groundwater quality to ensure safe drinking water
Actions
Provide educational assistance to Becker County and Mn Department of Health
Wetlands
Pollutant/Stressor
Altered hydrology
Goals
Restore hydrology of altered wetlands contributing excess nutrients to District Waters.
Actions
Evaluate wetland restoration potential near Campbell Creek
Water Quantity Goals
Waterbody/ies
Pollutant/Stressor
Focus
Goals
Actions
Lakes
Focus
Shoreline Protection and Restoration
Goals
Promote shoreline resilient to fluctuating water levels
Actions
Promote conversion of seawalls to naturalized shoreline
Groundwater
Goals
Ensure sustainable groundwater supply
Actions
Encourage installation of BMP's that increase infiltration
Ecological Integrity
Waterbody/ies
Pollutant/Stressor
Focus
Goals
Actions
All lakes and Streams
Pollutant/Stressor
Climate Change
Transportation of AIS
Habitat Fragmentation and Degradation
Loss of habitat connectivity
Focus
AIS
Wildlife Habitat
Fish Communities
Goals
Prevent establishment of new invasive species and manage invasive species that are present.
Protect and Improve wildlife habitat in near shore areas.
Maintain healthy fish communities.
Actions
Develop readiness response plan
Perform periodic aquatic vegetation surveys
Encourage pollinator friendly seed mixes and plantings
Identify and protect sensitive aquatic Areas
Assist MN DNR with replacing weir on Little Floyd Lake Dam with rock rapids